Jun
22
Tue
Living Life Limitlessly Costa Rica Retreat

@ NYA Hotel
This all-inclusive retreat is 6 days of relaxing ocean sunrises and sunsets in upscale accommodations in Costa Rica. Climb a natural waterfall, zipline through the rainforest, dance to Reggae in a beachfront club, and enjoy magical yoga and healing sessions with Althea on the open-air yoga deck in the rainforest. Organic and fresh meals will be prepared daily at Nya's 5-star restaurant, Ubin's by Keilor. And EVERYTHING is included in your registration! (see the full retreat itinerary and images of hotel & restaurant below)
Registration includes roundtrip air from Fort Lauderdale to San Jose, Costa Rica (optional), roundtrip flight from San Jose to Montezuma, all airport transfers, 3 meals per day, all excursions, a photoshoot, and Althea's magical manifestation experiences.
Don't wait to register… Althea's last 3 Costa Rica retreats sold out! (*Ask about the "Retreat Staff Volunteer" application and discount.)
Tuesday June 22:
Fort Lauderdale Flight to San Jose, Costa Rica
Welcome Dinner Meet & Greet
Wednesday June 23:
Palo Santo Clearing Session
Living Life Limitlessly Private Flight to Montezuma
City Walking Tour
Evening Workshop: Signs, Symbols & Magic Manifestation
Thursday June 24:
Sunrise Beach Meditation & Journaling
Gentle YinYoga
Waterfall Hike
Reggae Night at Beachclub
Friday June 25:
Sunrise Beach Meditation & Journaling
Zipline Excursion
Saturday June 26:
Sunrise Beach Meditation & Journaling
Essential Oil Yogalates
Photoshoot
Evening Workshop: Chakras & Reiki Self-Healing
Sunday June 27:
Sunrise Beach Meditation & Journaling
Living Life Limitlessly Private Flight to San Jose
Flight from San Jose to Fort Lauderdale
All activities are optional. You can skip any activity or tour listed and choose to sleep in, relax on the beach, or lounge by the pool. It's all good on an Althea Retreat!
Jul
9
Fri
Living Life Limitlessly Qatar-Bali Healing Retreat

@ Bali, Indonesia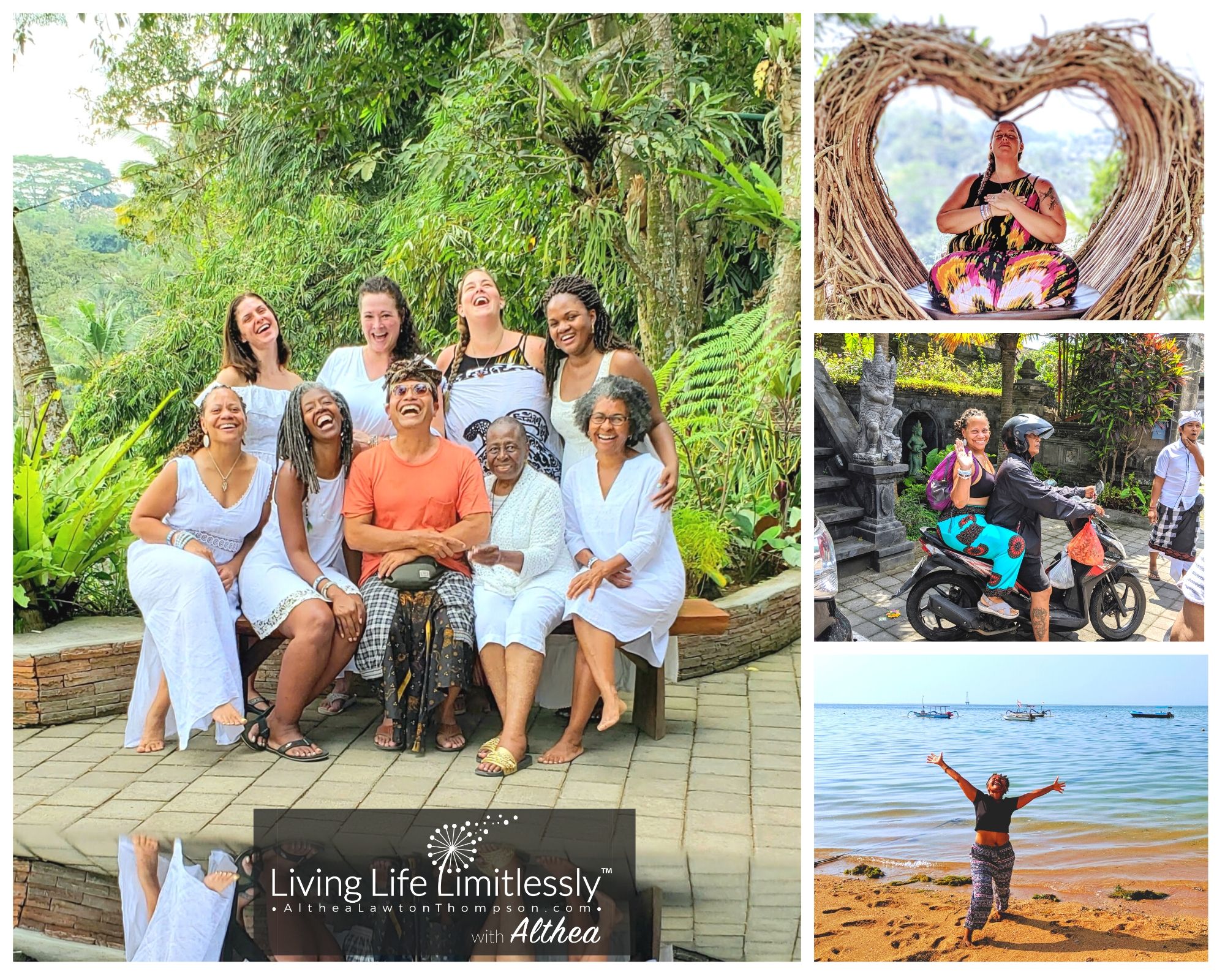 9 Days. 2 Countries. All Inclusive: Flight * Meals * Accommodations * Transfers * Tours * Healing
Althea has gone above and beyond with this summer retreat. Enjoy a roundtrip flight from Atlanta on top-rated Qatar Air, deluxe 5-star accommodations, shopping in open-air markets in Qatar and Bali, healing Balinese massage, guided meditation in a temple, swinging over the Balinese rainforest, participating in a traditional Bali fire show, and many other secret treats that are unique and special to Althea's Retreats.
Friday July 9
Fly from Atlanta to Doha, Qatar
Saturday July 10
Sunday July 11
Fly from Qatar to Denpensar, Bali
Indonesian Dinner
Beach Nighttime Gratitude Ceremony
Monday July 12
Sunrise Guided Meditation & Intention Setting
Sanur Walking Tour
Tuesday July 13
Sunrise Guided Meditation & Journaling
Transfer from Sanur to Ubud
Ubud Walking Tour
Group Dinner
Wednesday July 14
Poolside Morning Meditation
Temple Gratitude Ceremony
Massages
Free Afternoon
Group Dinner
Thursday July 15
Poolside Morning Meditation
Temple Gratitude Ceremony
Bali Swing in Rainforest
Group Lunch
Free Night
Friday July 16
Free Morning
Herbal Store/Essential Oil Lesson
Pura Dalem Temple Kecak Fire Dance
Group Dinner
Saturday July 17
Full Free Day
Fly from Bali to Atlanta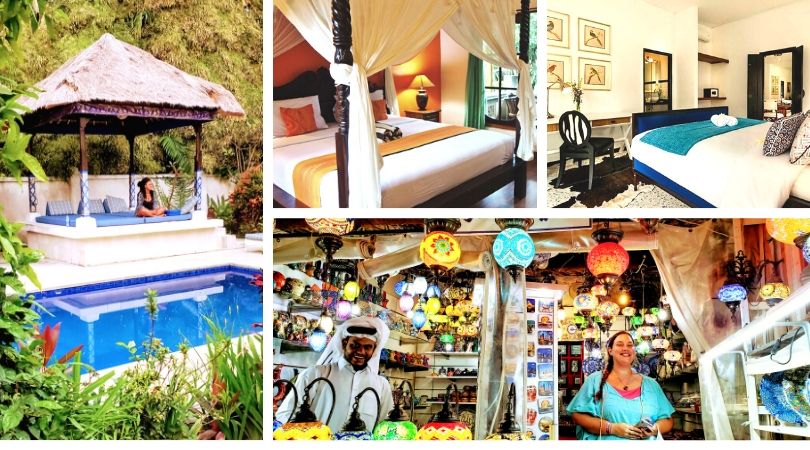 #AltheaRetreats #LivingLifeLimitlessly #AltheasBaliRetreat
Aug
27
Fri
Althea's 10th Georgia Mountain Healing Retreat

@ Elohee Retreat Center
Join Althea for her 10th year in the Georgia mountains with magical sunrise and sunset meditations, fireside healing, and life-changing manifestations at the peaceful Elohee Retreat Center. This retreat is open to EVERYONE over the age of 18. (*Ask about the "Retreat Staff Volunteer" application and discount.)
Friday Aug 27
10:00 – 12:00 Check-In, Welcome, and Relax
12:00 – 1:00 Lunch
1:30 – 2:30 Setting Intentions for Magical Manifestation (Workshop)
2:30 – 4:30 Peace & Freedom (Free Time)
4:30 – 5:30 Moving Meditation & Restorative Yoga (Class)
6:00 – 7:00 Dinner
7:30 – 8:45 Exploring Spiritual Gifts (Workshop)
Saturday Aug 28
6:00 – 7:00 Tea/Coffee & Sunrise Silence Session (Outdoors)
7:00 – 8:00 Gentle Yoga Flow (Class)
8:00 – 9:00 Breakfast
10:00-12:00 Nature Hike & Waterfall Meditation
12:00- 1:00 Lunch
1:00 – 2:30 Peace & Freedom (Free Time)
2:30 – 4:00 Holistic Healing with Essential Oils (Workshop)
4:30 – 5:45 The Dream Game (Workshop)
6:00 – 7:00 Dinner
8:45 – 10:15 Burning Session at the Firepit
Sunday Aug 29
6:30 – 7:45 Tea/Coffee & Sunrise Journaling Session
8:00 – 9:00 Breakfast
9:30 – 10:30 Reiki Self Healing & Meditation (Class)
10:30 – 11:15 Journaling & Silence Session
12:00 – 1:00 Lunch
1:30 – 2:00 Check Out
**No class or workshop is mandatory. Feel free to skip anything and relax in the many peaceful hideaways on the property. Use the "Peace & Freedom" times to get a massage or Reiki session. AYM retreats are true getaways for you to mold to your desires and needs…
The Elohee Retreat Center is a true oasis in peace, quiet and natural healing. All rooms are housed in newly-built cabins tucked along the mountain ridge. Plush, white duvets cover each bed and decorative rugs cover beautiful hardwood floors. The 24-hour Tea House is a peaceful option for reading, journaling or simply being still with a cup of hot tea. The clear, natural pool is perfect for relaxing while watching the sun set over the hills.
FAQs
Are there different meal options? I have food allergies or a special diet.
During the online registration process, you will be able to detail your allergies and indicate what foods you eat and which ones you avoid. The Elohee chefs specialize in making delicious vegan, vegetarian, and organic meat dishes.
What should I pack?
Comfortable clothing for yoga, hiking and relaxation indoors and outdoors. A camera or camera phone. Walking shoes or hiking boots and sandals or flip flops. A journal and pen. Your own Yoga mat if you desire (mats, blankets, meditation cushions, and more will be available). Sunscreen, sunglasses and a sun hat if you plan to relax on the mountainside (the hiking trail is shaded).
What if I've never done yoga before?
Every participant will feel comfortable with the props and options offered for all levels.
How can I contact the organizer?
Contact us at contact@althealawtonthompson.com or info@AYMFitness.com with any questions.